Automated Speed Enforcement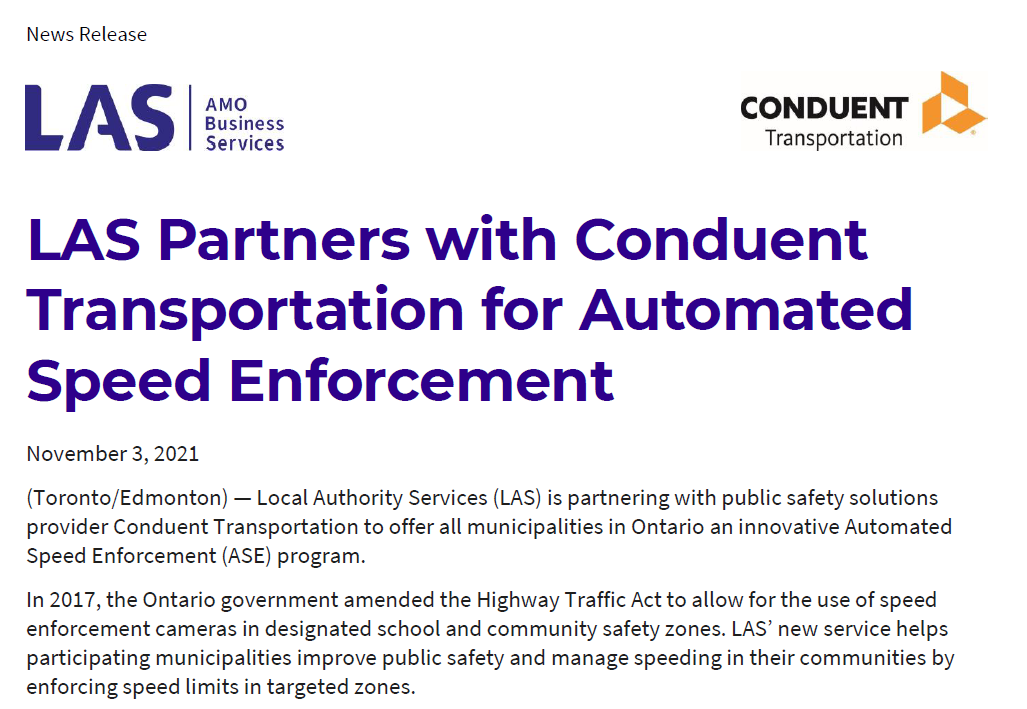 Click on thumbnail to read latest press release.

Automated Speed Enforcement (ASE) is an effective option to improve community safety. In 2019, the Ontario government passed into law O.Reg. 398/19 allowing municipalities to deploy ASE in designated safety zones. Together with community policing, this provides another tool to keep traffic in your community safety zones moving safely and slowly. 
Program Benefits
LAS has built an innovative turn-key ASE Service designed to keep things as simple as possible.
     •    Proven traffic enforcement to reduce speed
     •    Improved community safety
     •    Meets provincial regulations
     •    CFTA Compliant procurement process completed on behalf of all Ontario municipalities
     •    Flexible ASE options for a custom solution
     •    No blackout periods, no maximum ticket counts
     •    Flexible and affordable for municipalities of any size
Program Process
Creation and operation of the ASE Service follows these basic steps:
A municipality designates the area as a community safety zone or school zone.
LAS and our partner works with you to:
   •    Select the appropriate site
   •    Establish ASE parameters
   •    Sign necessary MTO contracts
   •    Launch a public education campaign if desired
Cameras are installed and maintained by our partner.
Program includes signage, ticket processing, issuing of fines/warnings, and court packages.
Municipalities interested in bringing ASE to their communities should contact LAS for more details.
Contact
Jeff Barten
Energy and Asset Services Manager
Email

Tanner Watt
Municipal Program Specialist
Email

Program Partner